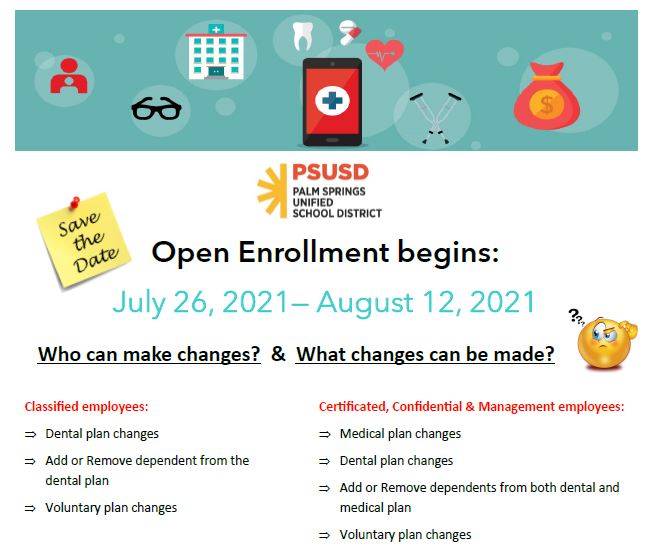 2021-2022 rates will be posted on the Benefits/Risk Management website on July 26, 2021.

Changes to Medical, Dental, Beneficiaries for the District Paid Life Insurance, Hyatt Legal, and Voluntary MetLife Insurance must be completed using Ease portal.

Any other voluntary products not listed above, please contact the representative directly. Visit our website for their contact information.

All changes will be effective October 1, 2021.

We encourage you to update your District Paid Life Insurance Beneficiaries—this can be done in the Ease portal. Regardless of open enrollment.
Renée Brunelle

Director of Risk Management

(760) 883-2715 ext. 4805376

Option 3 - Risk

Option 1
Tami Garcia Jesse Sotelo

WorkComp Specialist Risk Management Program Analyst

(760) 883-2715, ext. 4805379 (760) 883-2715, ext. 4805381

Option 3 - Risk

Option 3 - Risk

Option - 5

Option - 6
Jennifer O. Rangel Marlyne Velazquez Monica Muñoz-Villela

Benefits Specialist A - H Benefits Specialist I - P Benefits Specialist Q - Z

(760) 883-2715, ext. 4805377 (760) 883-2715 ext. 4805378 (760) 883-2715, ext. 4805380

Option 3 - Risk Option 3 - Risk Option 3 - Risk

Option - 2 Option - 3 Option - 4