Mail/Reprographics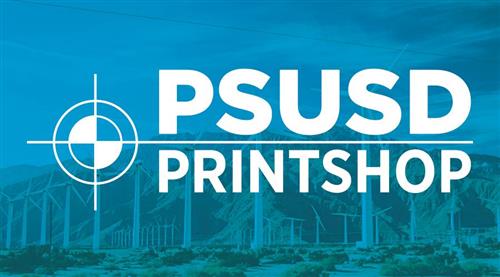 Hello PSUSD Staff,

Hope everyone is healthy and safe. The reprographics shop has been busy finishing up our upgrades to equipment to better serve our district's administration, teachers, students and families. Part of those upgrades is a new "digital storefront" to place your reprographic orders. This new digital storefront will help with efficiency and accuracy of your orders. Right now is the perfect time for you to become familiar with it, set up a account, and enter print jobs for next year. By submitting your jobs now, it will help us work out the bugs and help you transition to this new ordering system. It will also allow us some extra time to get started on your work for next year.

Go to palmspringsusd.myprintdesk.net

Click log in in the upper right corner, then in the sign in window click register.
Fill out your info, select your site and you will be set to start ordering.
Most orders will be in the General Print Requests/Copies. You will click add files, upload your file you want to print. select the options like finishing and paper color. Make sure you name the file and put in how many copies you want in the quantity.
These files will stay on your account for reordering purposes.
Then select add to cart. after you have added all your jobs to the cart select the cart and proceed to check out.
Select if you want to pick up or local delivery (to school site)
Fill out the delivery area to your school site (you can just put the school site name in the address) then click save. Future orders you can select this address from your saved address.
Click proceed to payment.
If you have no payment just select place my order. If you have charges you will need to fill out your budget code.​

You can also order:

Warehouse order forms
Business Cards
Mailings
And we will be adding more services like wide-format printing, Posters, Signs, Curriculum, Window Prints and more.

While you are home from your sites and students we can use this time to prepare and be ready to come back and serve our District's Students and Families better than before.

Please Email us at reprographics@psusd.us with questions.
Our Role
Mail/Reprographics
150 District Center Drive
Palm Springs, CA 92262
(760) 322-4116 Ext 3

Our Role:

Provide daily Mail Services to the sites and process their printing requests
Sort and distribute inter-district Mail on time to all sites and departments.
Process all US Mail and deliver to the US Postal Service daily.
Produce a quality Reprographics product and deliver to sites per due dates on requisition.
Produce special printing projects for the sites and departments.
Operate to save the district labor hours and money.

Services We Provide

Distribution of First Class, Standard, Non-Profit and special mail.
Distribution of Inter-district mail from and to all sites.
Provide Reprographics printing for all the district.
Provide timely finished products for our customers.
Receive and process printing requests for all departments throughout district.

Print Services

Black and White Copies
Color Copies
Curriculum Printing
Wide Format Printing (up to 65" wide)
Window Perf and Wall Prints
Flatbed Printing
Laminating
Business Cards
Programs
Brochures
Envelope Printing
Perfect, Spiral, Cloth and Comb Binding
Padding
NCR Forms
Design Work
Forms
Fill out this request form, save it and attach the file to be printed in an email to Reprographics.