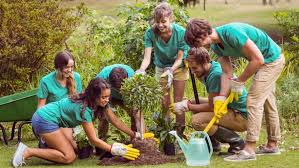 Community Service

Community Service is an opportunity to earn elective credit while giving back to your local community through unpaid volunteer work.

There is a wide range of things that would constitute acceptable Community Service for elective credit:

Volunterring at an animal shelter
Volunterring in area or school campus clean ups
Vounterring at a local soup kitchen or homeless shelter
Volunteering at a local library
Volunterring after school on campus to help teachers or staff with cleaning or tutoring
Volunterring after school with different organizations that impprve the health and education of the community such as Cancer Society, Heart Association, Cancer Awareness events, etc.

It is up to you to research and find the volunteer opportunities that work best for you. It is highly reccomended to get it approved by Mr. Cucciniello prior to beginning any Community Service to ensure it qualifies for the elective credit option.