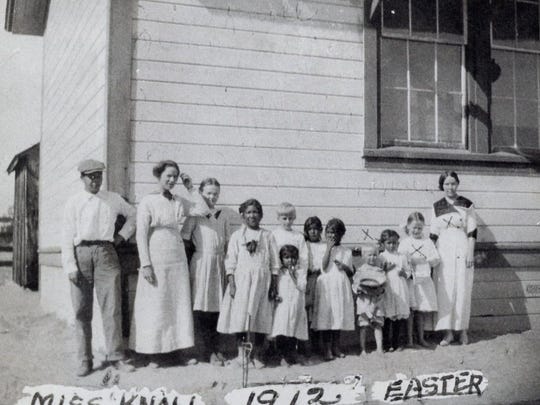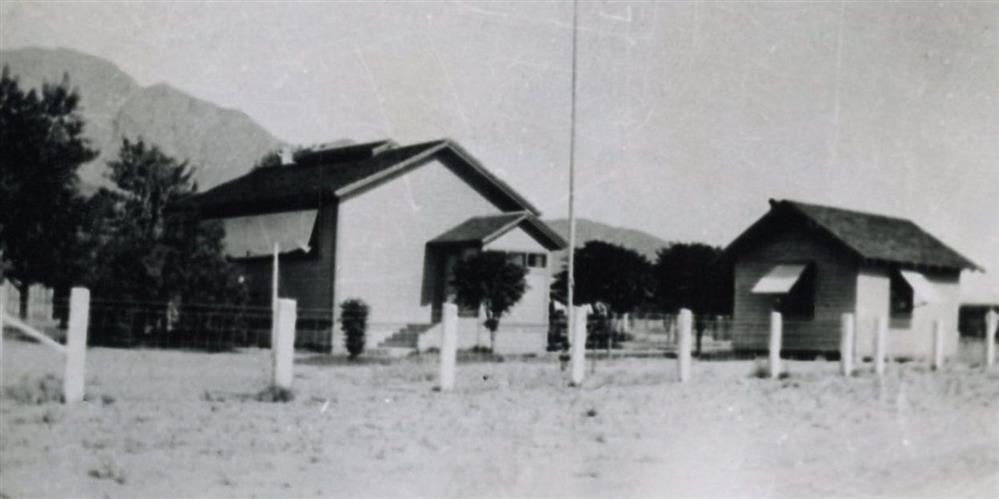 Katherine Finchy was born in Wasbasha, Minnesota, on Feb. 15, 1892, and attended school there. She was awarded a scholarship to Hamline University and later moved to Los Angeles to attend Occidental College, receiving her B.A. degree there in 1920. She took her M.A. degree at the University of Chicago in 1924. Before coming to Palm Springs, she taught in Silver Peak, Nevada, for a year.

Arriving here in 1922, she remembers her trek from the railroad depot in an old truck driven by Marcus Pete. She also recalls that the town turned out to meet her at a special reception that evening in the pool hall. There were 22 present, but it was a small community in those days. In 1922 there were no electric lights here, few tents and fewer houses. Miss Finchy shared accommodations with one other teacher, Rae Wiley, in the one-room house known as the "teacherage."

Their bath was a pitcher and basin; their shower, a hose hung over a tree branch outdoors. When Frances Stevens School was built in 1927, the school board built an apartment there with a private bath and running water. Miss Finchy lived in comparative luxury there.

Even in those days, teachers sometimes "moonlighted" and this irrepressible gal became the ticket-taker for movie-goers at Nellie Coffman's Desert Inn. Earle Strebe, now owner of three local cinemas, ran the movie projector. Miss Finchy became principal of the local school when the teaching staff grew to six. Later she became superintendent for a grand total of seven schools. The North End School was named in her honor following her retirement in 1951. She taught for a total of 30 years. Then she began the community work for which she is now so well known. She helped charter the Soroplimist Club of Palm Springs and was its founding president. She traveled in Mexico for two years, establishing more Soroplimist Clubs for business women there. She has been active in many organizations such as Girl Scouts, Allied Arts Association, Desert Museum, Community Church, Red Cross, American Association of University Women, Women's Club, and Palm Springs Historical Society. She has received commendations for service to O.P.A. during World War 11, and the campaign for Community Hospital Drive in 1947. Finally, the last seven years have been devoted to hard work and loving care of Miss Cornelia's Home, headquarters for the Historical Society. She has kept the house open six days a week for seven years, directing the volunteer hostesses, but always doing duty herself.