A Welcome from PSUSD's New Superintendent
Posted by Mike Swize, Ed.D. on 7/1/2021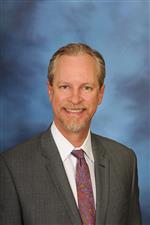 It is my honor and pleasure to welcome all our students, staff, families and community members to the 2021-22 school year as your new Superintendent of Schools. I look forward to a productive year ahead as well as the opportunity to work with all of you to move forward in our quest for academic, social and emotional success for each of our Palm Springs Unified School District students.
Needless to say, the past year and a half has been everything but "normal" or "traditional." It has, without a doubt, been the most challenging times most of us have ever experienced in so many ways, not the least of which has been continuing the education of our children without being able to interact with them in person. I could not be prouder of and impressed with the perseverance and creativity of our students and staff members as they navigated through unchartered waters of distance learning and the challenges that came with it. We are also so grateful for the extensive support from our families and community members during this unique and, for many, turbulent time.
We are encouraged by the most recent reports which show continued decreases in cases and positivity rates as well as the numbers of local residents who have taken the COVID-19 vaccines. The more people vaccinated; the less likely outbreaks will occur as we launch the 2021-22 school year on August 4. At this time, it looks like we will be able to return to our traditional classroom settings and schedules though there could be revised guidelines at the state or county level that could change that, and we will be ready to respond accordingly if that happens. Current guidance will require that we continue the use of face coverings indoors in all school classrooms and buildings.
As I begin my 32-year career in education, I am so excited to be doing that in the school district that I have called home for all of that time. I have served as a teacher, coordinator, assistant principal, principal, director and, most recently assistant superintendent of educational services for the past 11 years. It is my great honor to continue to serve this district in the role of Superintendent, I am extremely positive and excited about the future in Palm Springs Unified School District. That is due in large part to the amazing Board of Education, Cabinet, Leadership Team, teachers and entire staff that are second to none in terms of their commitment and dedication to doing what is best to our students. I could not ask for a finer team, and I know that together we will continue the innovative work our district has become known for and move even further forward in our focus on creating a culture focused on anti-racism, equity and growth opportunities and supports for each one of our students.
I hope you all enjoy the remainder of your summer break, and I hope you will not hesitate to reach out to me at mswize@psusd.us at any time if you have suggestions, input or questions on how we can work together to best support your children.
Until next month,
Mike Swize, Ed.D.
Superintendent of Schools