Looking at Remainder of 2019-20 School Year
Posted by Sandra Lyon, Ed.D. on 5/5/2020 9:00:00 AM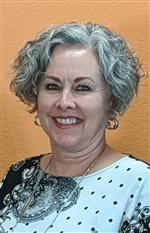 For many of us, the last several weeks have certainly been among the most unique and challenging of all of our lives. It seems most everything has changed including how we are permitted to interact with one another and leave our homes for any reason other than essential business. The physical closure of schools in Riverside County along with most throughout the entire state and country has changed the way our students are receiving their education. One thing I hope I can convey to you is that the Palm Springs Unified School District's Board of Education, administration and entire staff are 100 percent committed to providing our students with the educational, social and emotional tools they need during this difficult time. While our physical buildings will remain closed through the end of the school year, with a reopening date planned for Aug. 5, uncertain at this time, we have been working on our three-phase distance learning plan since the moment our physical doors closed in mid March, By last week, all of our teachers had received training in how to interact with their students online and were scheduled to reach out to their students to share schedules and plans for the remainder of the school year.
We know you have many questions regarding what comes next, regarding grading, graduation and more. While we don't have all the answers yet, we have compiled a list of Frequently Asked Questions with the information we do have at this time. We hope it will help answer some of your questions and concerns as we move forward.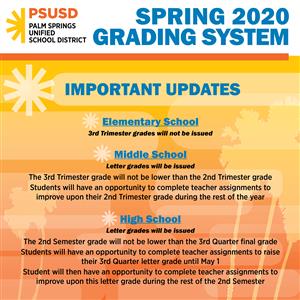 Specifically in regards to grading for the remainder of the year, grading will look different than what parents are used to seeing. For elementary students, because of the nature of the current standards-based elementary report card, third trimester grades will not be issued. For secondary students, the District is moving to a "Hold Harmless" "grading system in order to ensure equity for all students, as recommended by the California Department of Education. "Hold Harmless" means that all students who need to raise grades are given the opportunity to do so, while not penalizing any student. As a result, 3rd trimester grades for 6th-8th will not be lower than the 2nd trimester grade issued and 2nd semester grades for 9th-12th will not be lower than the 3rd quarter grade issued. PSUSD's move to "hold harmless" grading is temporary and will be discontinued when students and staff physically return to school. Here's a graphic that might help explain it better.
While we have transitioned to an alternative method of education delivery, this does not mean the school year is over for students and staff. Distance learning is essential to ensure that students have the skills they need to be successful in the future. Research shows that students who participate in any learning opportunities will earn higher grades in the future than those who do not. It is in the best interest of all students to participate in whatever learning forms they can.
We are beginning to hear about the possibility of the stay at home order being relaxed, likely in stages, over the coming weeks and/or months. There is still much we don't know about timelines when it comes to resuming activities. What we do know is that our schools will not reopen for the remainder of this school year, and we plan to reopen as scheduled on Aug. 5, though likely with modification. We also know is that large group gatherings will not resume for at least a few months. This, unfortunately, includes holding traditional live graduation ceremonies, which would mean gatherings of several thousand. We are heartbroken for our seniors and their families; however health and safety always come first, so we cannot engage in these types of activities at this time. Each of our high schools is working on a special and unique virtual graduation ceremony. The schools will also consider some kind of live celebration once the crowd restriction is lifted.
Thank you for your continued support and understanding during this most difficult time, and know we are here to support our students and families now and in the future.
See you next month!
Sandra Lyon, Ed.D.
Superintendent of Schools