Cyber Safety Top Priority
Posted by Sandra Lyon, Ed.D. on 10/3/2019 11:00:00 AM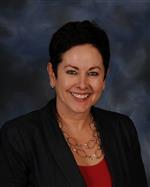 During this month, our Educational Technology Information (ETIS) department will be sharing a great amount of information with students, staff members and families relative to Cyber Security. Topics to be covered include:
Cyber Safety and online safety training

Applications that parents and teachers need to know about

Online bullying awareness and prevention resources

Online security trends and awareness

Hacker trends
District technology leaders will be providing student lessons and content for staff on cyber security as we move through October. ETIS will also be launching the third year of our digital citizenship game for secondary students: "Cyber Champions 2019," which includes updated content on application safety and consequences of misuse, how and when to use social media and what colleges and employers look for online. This program won a California School Boards Association (CSBA) Golden Bell Award after its first year for being a model program for other Districts across the state. For more information on NCSAM visit: https://niccs.us-cert.gov/national-cybersecurity-awareness-month-2019.
As a parent, one of the most important things you can do to safeguard your child's safety online is to monitor their activity and make sure they are not visiting inappropriate websites or social media platforms or forming dangerous relationships online. Some additional tips on this topic:
Sit down with your child and find out which apps he or she is using, how they work and whether your child has experienced any issues on them such as cyberbullying or contact with strangers.

Consider setting up age limits on your child's electronic device(s).

Go over some general rules with your child to help keep him or her safe online.

Consider making a rule that your child must ask permission before downloading any apps (even free ones) so you can review them first.

Remind your child to let you or another trusted adult know if anyone is acting inappropriately online.
Together we can work to ensure our children remain safe both in their physical space and in cyberspace.
See you next month!
Sandra Lyon, Ed.D.
Superintendent of Schools