Congratulations PSUSD Class of 2019!
Posted by Sandra Lyon, Ed.D. on 6/3/2019 4:00:00 PM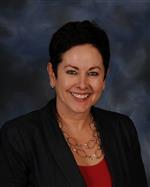 As we prepare to close the 2018-19 school year, I want to take a moment to commend the PSUSD class of 2019 graduates for a job well done! The Board of Education and Cabinet members are so proud of our students, and we are enjoying our annual tradition over the next week of shaking the hands of each of our graduates as they walk across the stage to receive much-deserved recognition for the hard work they have put in during their public school education.
In addition to the standard challenges faced by all high school students each and every year—juggling the demands of rigorous academics along with sports, extracurricular activities, family responsibilities and/or employment—today's graduates have also had to deal with increased stress placed upon them by seeing and hearing the far-too-often news reports of violent acts on school campuses across the nation. Although we wish we could shelter our children from having these added pressures and stresses in their lives, regretfully, we cannot. The good news is that our PSUSD students continue to respond to the negativity that sometimes surrounds them with positive activities that motivate and inspire rather than depress and deject. Students and staff members at each of our high schools have worked hard to create atmospheres of inclusion and acceptance of ALL students, and the resulting feelings of positivity and caring are truly heart-warming and serve as shining examples for our younger students who may be experiencing similar emotions and concerns.
We have a lot of work to do, and I am pleased that we are on the right track. We have a Board of Education, administration, teachers and support staff who are committed to doing what is best for our students, and we are all striving to continuously improve so we can best meet student needs. Your support and assistance in this endeavor is so very important and becomes more crucial as we refine practices and work to assist our students as they navigate the academic, emotional and social pressures placed upon them. We can't do it without you!
I wish you all a restful and safe summer vacation and look forward to continue working together to meet the educational needs of all of our students!
See you next month!
Sandra Lyon, Ed.D.
Superintendent of Schools