Return to Headlines
Grad Senior Celebrations 2020
Diploma Pick-up & Textbook/Device Drop off Dates
Location: DHSHS Blacktop (enter through the student parking lot)
Drive-thru event - wear a mask
Diploma Pick-up
Attention 2020 graduates :
This Friday 7/17/20 from 7:30 -10:30 am we will be doing the senior diploma pick up at the school in the front parking lot. This will be a drive thru event and we ask that you please remain in your car and wear a mask when speaking to staff thru your windows. You will be directed to the appropriate area according to your last name.
Este viernes 7/17/20 de 7:30 a 10:30 am haremos distribución de diplomas de graduacion en el estacionamiento delantero. Este será un evento de conducción "drive thru" y le pedimos que permanezca en su automóvil y use una máscara al hablar con el personal a través de sus ventanas. Será dirigido al área apropiada de acuerdo con su apellido.
---
DHSHS Senior 2020 Virtual, Drive-Through Celebration, & Senior Scholarship Awards!
Virtual Graduation - 6/1/2020 @ 5:00 PM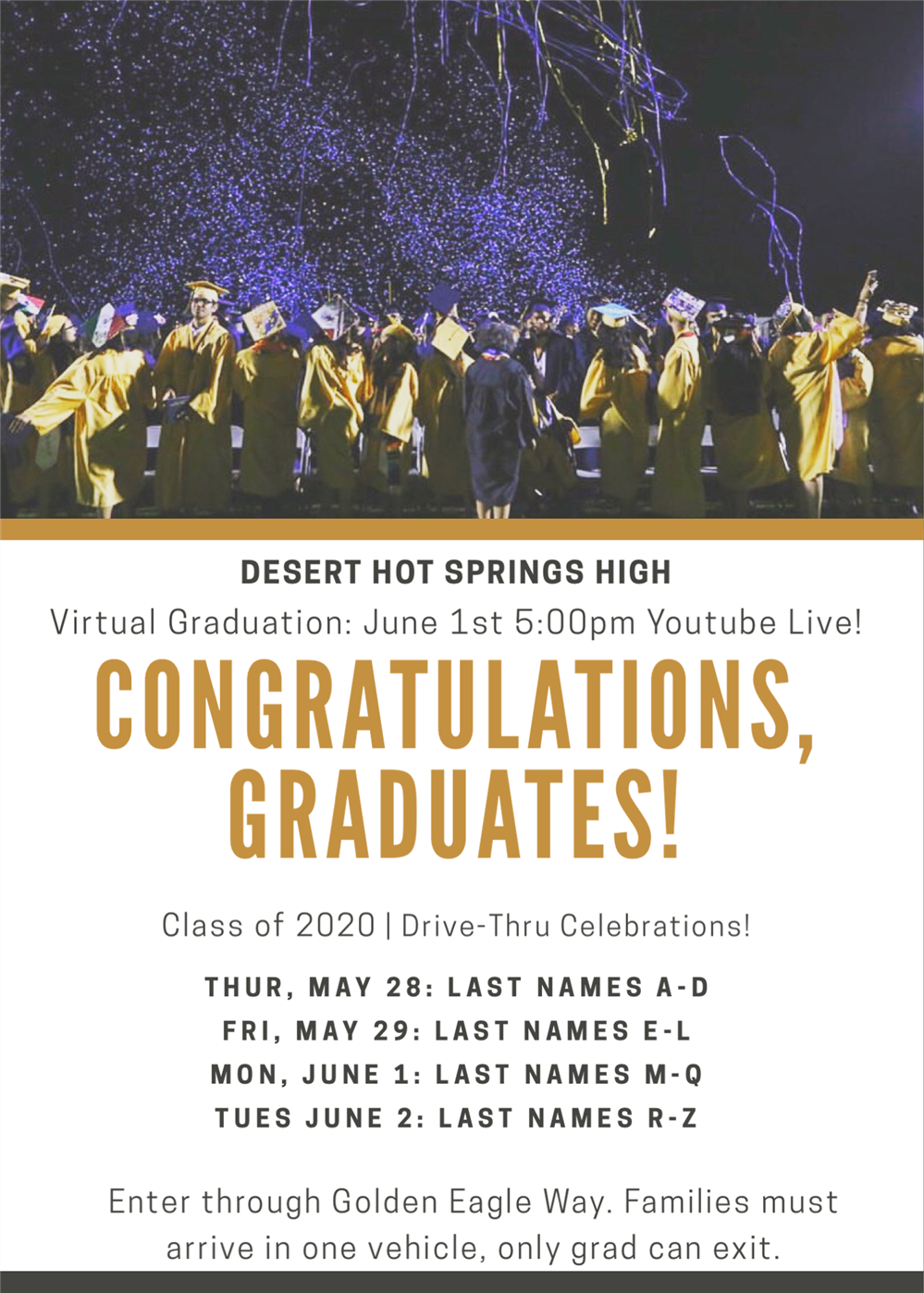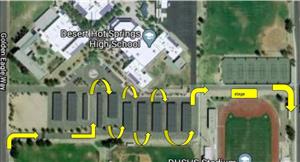 Golden Eagle Seniors and Parents!

We have great news, we have received the approval to hold drive through senior celebrations! In order to ensure social distancing and sanitary precautions to keep our graduates, families, and staff safe, we are implementing several measures.

We will host the celebrations from 8 am to 10 am on four days. Please plan to participate on your designated day, according to your last name:

Thursday, May 28: Last Names A-D and any students with a disability requiring a lift to access the stage.
Friday, May 29: Last Names E-L
Monday, June 1: Last Names M-Q
Tuesday, June 2: Last Names R-Z

Please respect the day assigned in order to avoid creating long lines for your fellow graduates.

Families must arrive in one vehicle and all family members must stay in their vehicle. Only the graduate will be allowed to exit the vehicle.

Please enter the school through the front parking lot on Golden Eagle Way and follow the coned lanes to the stage area. Only one car will be allowed into the stage area at a time and will then exit the school onto Cholla Drive.

Families will drop off the graduate near the stairs to the stage and drive alongside the stage as their graduate walks across, then pick up the graduate on the other side, before driving out of the school.

A professional photographer will take pictures of each graduate walking across the stage and the photos will be available online for free downloads. Families may purchase prints from this website: https://bukraba.smugmug.com/Schools/Desert-Hot-Springs-High-School/DHSHS2020Graduation/

Please write the graduate's name in large, clear lettering on a piece of paper so that it can be read aloud as you walk across the stage.

We encourage our families to decorate their cars and make this a festive occasion while remaining safely in their cars.

We thank you for your cooperation and we look forward to celebrating our seniors in this special way, in addition to our official virtual graduation, scheduled for 5 PM on June 1.
***************************
Golden Eagle Seniors y padres!

Tenemos una gran noticia, ¡hemos recibido la aprobación para conducir durante las celebraciones de Seniors! Con el fin de garantizar el distanciamiento social y las precauciones sanitarias para mantener seguros a nuestros graduados, familias y personal, estamos implementando varias medidas.

Organizaremos las celebraciones de 8 am a 10 am en cuatro días. Planee participar en su día designado, de acuerdo con su apellido:

Jueves 28 de mayo: apellidos A-D y cualquier estudiante con una discapacidad que requiera un elevador para acceder al escenario.
Viernes 29 de mayo: apellidos E-L
Lunes 1 de junio: apellidos M-Q
Martes 2 de junio: apellidos R-Z

Respete el día asignado para evitar crear largas filas para sus compañeros graduados.

Las familias deben llegar en un vehículo y todos los miembros de la familia deben permanecer en su vehículo. Solo el graduado podrá salir del vehículo.

Ingrese a la escuela a través del estacionamiento delantero en Golden Eagle Way y siga los carriles conados hasta el área del escenario. Solo se permitirá un automóvil en el área del escenario a la vez y luego saldrá de la escuela hacia Cholla Drive.

Las familias dejarán al graduado cerca de las escaleras hacia el escenario y conducirán a lo largo del escenario mientras su graduado cruza, luego lo recogerán del otro lado, antes de salir de la escuela.

Un fotógrafo profesional tomará fotos de cada graduado caminando por el escenario y las fotos estarán disponibles en línea para descargas gratuitas. Las familias pueden comprar impresiones de este sitio web: https://bukraba.smugmug.com/Schools/Desert-Hot-Springs-High-School/DHSHS2020Graduation/

Escriba el nombre del graduado en letras grandes y claras en una hoja de papel para que pueda leerse en voz alta mientras camina por el escenario.

Alentamos a nuestras familias a decorar sus automóviles y hacer de esta una ocasión festiva mientras permanecen seguros en sus automóviles.

Le agradecemos su cooperación y esperamos celebrar a nuestros seniors de esta manera especial, además de nuestra graduación virtual oficial, programada para las 5 PM del 1 de junio.