Return to Headlines
Rio Vista Distance Learning Schedule
Dear Ranger Families,
PSUSD has released our elementary distance learning schedule! Please click the links below to view the schedules for the first day of school on August 5th. The schedule shows the time that your student will need to log on each day to be participating in the LIVE online classroom learning activities. Please make sure that you take a look at page 2 of the schedule as it explains what each "color" on the schedule means.
Elementary Schedule English: https://bit.ly/DLElemSchedule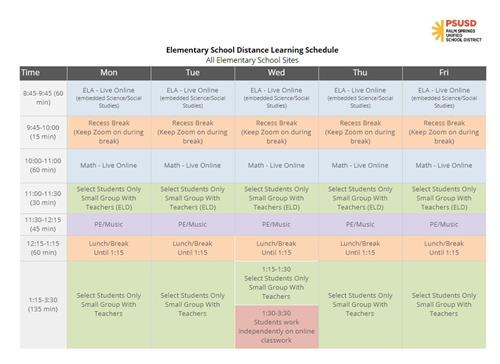 Elementary Schedule Spanish: https://bit.ly/DLElemScheduleSp
Did you miss the email/text about when you should come to Rio Vista to pick up your child's materials/supplies for distance learning and find out your child's classroom teacher for this year, please go here for that information: bit.ly/FindOutYourNewTeacher
Sincerely,
Mr. T, Principal
atarzian@psusd.us
Cell/text 760-537-0889
Office: 760-416-0032
---
Estimadas familias de Rio Vista,
¡PSUSD ha lanzado nuestro programa de primaria de aprendizaje a distancia! Haga clic en los enlaces a continuación para ver los horarios para el primer día de escuela a partir del 5 de agosto. El horario muestra el tiempo que su estudiante necesitará iniciar la sesión cada día para participar en las actividades de aprendizaje en vivo en el aula en línea. Asegúrese de echar un vistazo a la página 2 del horario, ya que explica qué significa cada "color" en el horario.
Horario de Primaria en Inglés: https://bit.ly/DLElemSchedule
Horario de Primaria en Español: https://bit.ly/DLElemScheduleSp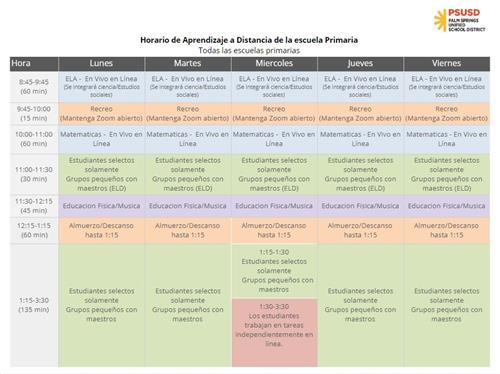 ¿Se perdió el correo electrónico / mensaje de texto sobre cuándo debe venir a Río Vista para recoger los materiales / suministros de su hijo para el aprendizaje a distancia y averiguar el maestro/a de su hijo/a para este año? Visite aquí para obtener esa información: bit.ly/FindOutYourNewTeacher
Sr. T, Director
atarzian@psusd.us
Celular/texto 760-537-0889
Oficina: 760-416-0032