Return to Headlines
School Supplies & Materials for Distance Learning
Dear Ranger Families,
Welcome to the 2020-21 school year! The teachers and staff are preparing for distance learning to begin on Wednesday, August 5th and we are all excited to teach your child(ren) this year!
Click here (bit.ly/RVDistanceLearning) so you know when you and your child should come pick up Distance Learning supplies/materials and to find out who your child's teacher is for this school year. Class lists are not being posted this year due to social distancing guidance.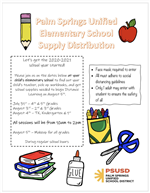 During materials pick up, families will also receive instructions for how to join the teacher's online classroom and when/how to log on to distance learning on the first day of school.
ALL Transitional Kindergarten (TK) and Kindergarten students will receive a computer at their scheduled supplies/materials pick up. Any other student in need of a device or a mobile hotspot needs to complete this form (bit.ly/NeededTech) and we will be in touch with how/when to get your device.
We look forward to another great school year together. As I have said before, this school year will undoubtedly look different than usual. However, the staff at Rio Vista are committed to do whatever we can to support each one of our students to get the best education possible under these unprecedented circumstances. Go Rangers!
Please contact me directly if you have any questions or need any help. We are here to support you! Please note: we are required to keep the school office closed to visitors due to the small space. Please contact us in the office via phone, email, or text to make an appointment or to receive help remotely.
Mr. T, Principal
atarzian@psusd.us
Cell/text 760-537-0889
Office: 760-416-0032
---
Estimadas Familias de Rangers,
¡Bienvenido al año escolar 2020-21! ¡Los maestros y el personal se están preparando para que el aprendizaje a distancia comience el miércoles 5 de agosto y todos estamos entusiasmados de poder enseñar a sus hijos este año!
Haga clic aquí (bit.ly/RVDistanceLearning) para saber cuándo usted y su hijo/a deben venir a recoger útiles escolares/materiales para el aprendizaje a distancia y saber quién será el/la maestro/a de su hijo/a para este año escolar. Las listas de clases no se publicarán este año debido a la orientación de distanciamiento social.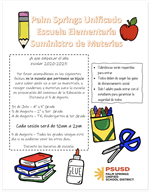 Durante la recogida de materiales, las familias también recibirán instrucciones sobre cómo unirse al aula en línea del maestro/a y cuándo/cómo iniciar la sesión para el aprendizaje a distancia el primer día de clases.
TODOS los estudiantes de Kínder Transicional (TK) y Kínder recibirán una computadora durante la recogida programada de útiles escolares/materiales. Cualquier otro estudiante que necesite un dispositivo o un punto de acceso móvil debe completar este formulario (bit.ly/NeededTech) y nos pondremos en contacto sobre cómo/cuándo obtener su dispositivo.
Esperamos otro gran año escolar juntos. Como he dicho antes, este año escolar sin duda se verá diferente. Sin embargo, el personal de Rio Vista se compromete a hacer todo lo posible para apoyar a cada uno de nuestros estudiantes para obtener la mejor educación posible en estas circunstancias sin precedentes. ¡Arriba Rangers!
Póngase en contacto conmigo directamente si tiene alguna pregunta o necesita ayuda. ¡Estamos aquí para apoyarte! Tenga en cuenta: estamos obligados a mantener la oficina de la escuela cerrada a los visitantes debido al pequeño espacio. Póngase en contacto con nosotros en la oficina por teléfono, correo electrónico o mensaje de texto para programar una cita o recibir ayuda de forma remota.
Sr. T, Director
atarzian@psusd.us
Celular/texto 760-537-0889
Oficina: 760-416-0032