Coachella Valley Health Info Place (CVHIP)

A FREE one stop website that makes it easy to find community resources you need like food, health care, job training, and more. You can access CVHIP on your own anytime using your laptop, desktop computer or smartphone.

How CVHIP works

Visit www.CVHIP.com to find resources in the Coachella Valley and beyond. Just enter your zipcode in the the search bar on the main page and then choose a category. Click on the resource you want, such as housing, food or health care resources.

Ways CVHIP helps you

- Search trusted resources in the Coachella Valley anytime

- Find health and wellness resources needed to improve your health

- Use www.CVHIP.com nearly anywhere on any device!

Resources you can find

- Food

- Housing

- Transportation

- Clinics

- Health resources

- Job training

- And many more!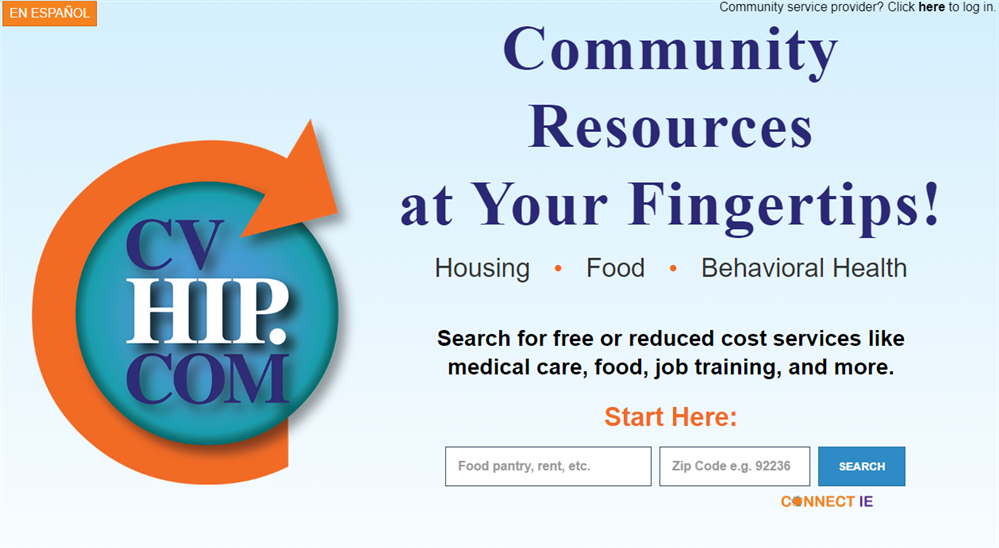 Coachella Valley Health Info Place (CVHIP)

Una pagina web GRATUITA que le permite fácilmente encontrar recursos comunitarios que usted necesita, como alimientos, atención médica, capacitación laboral y más. Usted puede acceder a CVHIP en su computadora, tableta o teléfono celular.

Cómo funciona CVHIP

Visite www.CVHIP.com para encontrar recursos en el Valle de Coachella y más allá. Simplemente ingrese su código postal en la barra de búsqueda en la página principal y luego elija una categoría. Haga clic en el recurso que desee, como vivienda, alimentos o recursos de atención médica.

Maneras en que CVHIP le puede ayudar

- Encuentre recursos confiables en el Valle de Coachella en cualquier momento

- Busque los recursos de salud y bienestar necesarios para mejorar su salud

- ¡ Use www.CVHIP.com casi en cualquier lugar en cualquier dispositivo!

Algunos recursos disponibles

- Despensas de alimientos

- Vivienda

- Transportacion

- Clinicas

- Recursos de salud

- Capacitación laboral

- ¡Y muchos más!