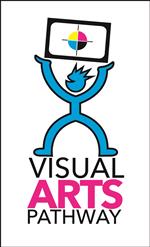 The Visual Arts Pathway focuses on preparing the
student for the graphic communications and
graphic design industry. Students that are creative
artistically or enjoy working with computers are
encouraged to enroll in the Visual Art Pathway.


The basic graphic design course and the first level
of the pathway is Contemporary Media. Students
learn the basics of graphic design, history of printing
and how to prepare design for print.


Digital Photography is a basic photography class
where students learn how to operate and shoot
compositions using a digital single lens reflex
camera. Students will be introduced to color and
black and white photohraphy as well as special
effects. Adobe Photoshop has become the
darkroom of the twenty first century therefore
Photoshop is used extensively throughout the
program.


Digital Imaging and Design is our advanced
program where students experience first hand the
power of corporate identity design and branding
and how it influences today's society. Poster design,
package design, advertsing and commercial
printing is explored. Students need to take
Contemporary Media or Digital Photography before
enrolling in the class.